Kujira Oracle Monitoring Bot
Intro
Kjnodes team have built this bot for the
Kujira community to keep validators notified when there is change in Oracle Price Feeder status. When the validator starts to miss Oracle Votes bot will send notification message.
🤖 Kujira Oracle Monitoring Bot | kjnodes
How to use
To start using the bot type /start command and choose one of the commands:
👷 Add an operator key - type in valoper address of validator you want to monitor and it will get added to the bot.

Add an operator

⭕️ Reset operator keys - this will reset all your saved validator entries.

📃 List operator keys - will list your saved validator entries

List of saved operators

📃 List all operators - will list all oracle operators sorted by missed oracle votes in current cycle
To reduce spam alerts with each status change, you will be notified only if your validator exceeds threshold that is set to: 16 missed oracle votes per 10 minutes (That's about 86% fail ratio)
That's it! You are all set! Here is some example of the notification from the bot.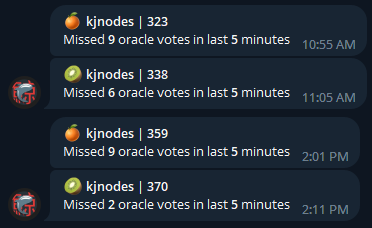 From kjnodes with ❤